Royal Envoy Triple Pack Collectors Edition
1. Royal Envoy Collector's Edition
2. Royal Envoy 2 Collectors Edition
3. Royal Envoy: Campaign for the Crown Collectors Edition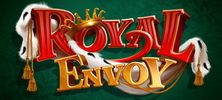 Royal Envoy Collector's Edition
Take the King's challenge! Save the wonderful land of countless islands from the merciless forces of nature. Construct and upgrade homes and buildings for the island citizens and become the chief city planner of marvellous Islandshire. Think your way to triumph in this challenging and mesmerizing game of pirates, treasure and hot-air balloon adventures! Don't lose a chance to experience all of the exclusive Collector's Edition extras: Take a peek at the authentic artwork, learn how the characters were created, enjoy the original soundtracks or get the magnificent wallpapers that will turn your desktop into a magical kingdom!






Royal Envoy 2 Collectors Edition
Team up with Cedric once again, for another exciting adventure! The King turns once more to you, his trusted city planner, to travel to the faraway land of Middleshire devastated due to the poor management and negligence of its rulers. Here you will be greeted by a host of zany new characters, and meet a few old favourites. Explore ancient caves and forgotten mines, meet mystical nymphs and leprechauns, engage in snowball fights in the frigid arctic, and rescue the people of Middleshire from the fires of a terrible volcano. With you as their guide, the people will build a veritable paradise - while you win prizes for your speed and quick wit!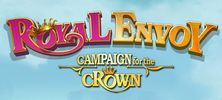 Royal Envoy: Campaign for the Crown Collectors Edition
Breaking news! The monarchy is at risk! Someone wearing a black cloak broke into the royal palace. The stranger was fearful and grim, and challenged the King's right to the throne. He accused the King of being unable to manage the kingdom, and demanded to be elected King himself! Help the King win the elections and defend the truth and justice in the kingdom.




http

:

//uploaded.net/file/mi85tbpk/RoyalEnvoyTriplePackV2.rar


OR
http

:

//fileom.com/t8q6z857b23w/RoyalEnvoyTriplePackV2.rar


OR
http

:

//www.rapidfileshare.net/m8oh9x01sxc1/RoyalEnvoyTriplePackV2.rar




699

 MB

PRE-INSTALLED CRACK: JUST INSTALL & PLAY!



UPDATED 21st July 2013
Royal Envoy: Campaign for the Crown has been updated and the following issues fixed:
- missing Expert Mode
- some minor bugs with the game freezing and crashing at different spots




by LeeGT: