AS Requested
You have been selected to become the manager of some of the world`s leading beach resorts in Paradise Beach, a fun and exciting Strategy game! Create your dream retreat as you construct buildings, plant pretty foliage, and even design the layout of your peaceful getaways. Travel to different islands and use your imagination to keep your customers nice and relaxed as you plot the perfect Paradise Beach!
Game Features:
• Unique Gameplay
• Hidden Object Minigames
• Construct Paradise Beach!
System Requirements:
• OS: Windows XP/Vista
• CPU: 1.2 GHz
• RAM: 256 MB
• DirectX: 9.1
• Hard Drive: 107 MB
http://www.filefactory.com/file/a0aeha8/n/ParadiseBeach_rar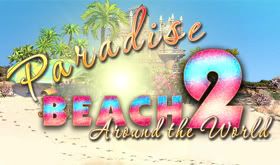 Paradise Beach 2:

Around the World





Build/Tycoon/Strategy Game!



New beaches in the most interesting corners of the globe await you in Paradise Beach 2: Around the World. Meet strange animals and amazing people, witness unbelievable love stories, and save endangered species on eight wonderful and diverse islands. There are dozens of plants specific to each climate, and you have the freedom to build and decorate these beaches as you wish. So what are you waiting for?



http://uploaded.net/file/gjoryfxp/ParadiseBeach2World.zip
OR
http://www.rapidfileshare.net/oifqnvhzrrvw/ParadiseBeach2World.zip
OR
http://www.filefactory.com/file/35prpcibzu5f/ParadiseBeach2World.zip

120 MB