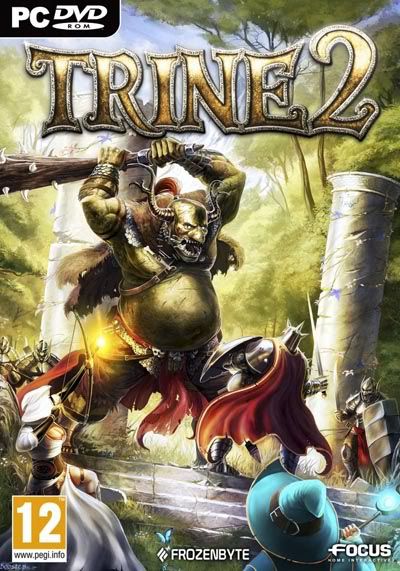 Thanks : Bravie ,




http://www.warez-bb.org/viewtopic.php?t=13739073
Trine 2 is a sidescrolling game of action, puzzles and platforming.
You play as one of the Three Heroes who make their way through dangers untold in a fantastical fairytale world.
Physics-based puzzles with fire, water, gravity and magic; Wicked Goblins; Climb the tallest trees and towers in the enchanted forest!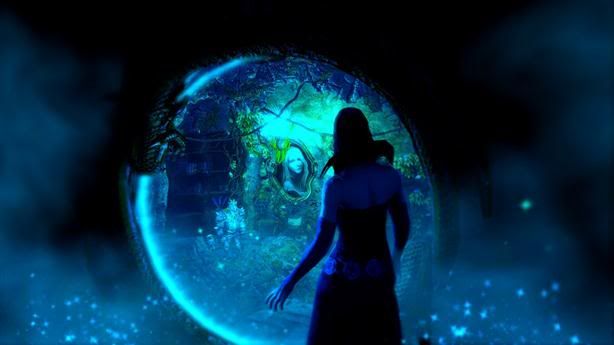 Key Game Features
• Physics-based puzzles with fire, water, gravity and magic
• Online and local co-op for up to three players
• Save anywhere to play as long or short sessions as you like
• Unlimited Character and Game+ modes add to additional replay value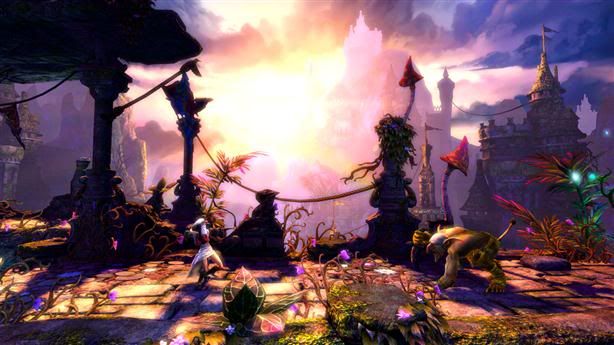 • Accessible for both casual and hardcore gamers
• Hidden collectibles extend the length of your adventure
• Fun and challenging Achievements to unlock
• Soundtrack composed by the acclaimed Ari Pulkkinen

The Characters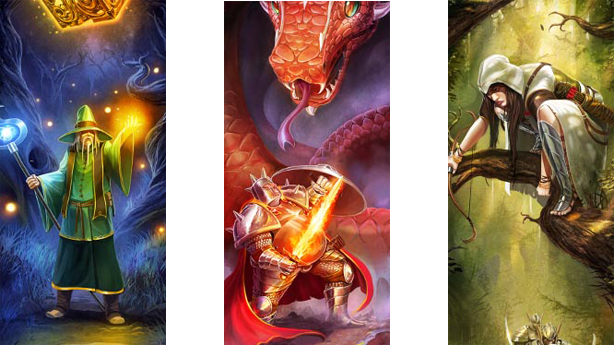 Amadeus the Wizard
Despite his ongoing research for finally learning the Fireball spell,
the Wizard's talent is for conjuring peculiar boxes, and occasionally
even planks. He can also levitate small inanimate objects.
Amadeus is married to a lady by the name of Margaret. They have three
children, all of whom know the Fireball spell.
Pontius the Knight
The Knight is an eager champion of the kingdom, the protector of the
common man with a great sense of justice. Armed with his sword, his shield
and the powerful Storm Hammer, he's a formidable fighter.
Pontius's great weakness is food. This shows around his waist.

Zoya the Thief
The Thief makes her way up to rooftops and over walls with her trusty grappling hook.
Zoya is not so concerned about family or duty, but she is content to be a hero of the Trine,
for she loves adventure.
Zoya's love for treasure, however, often leads her astray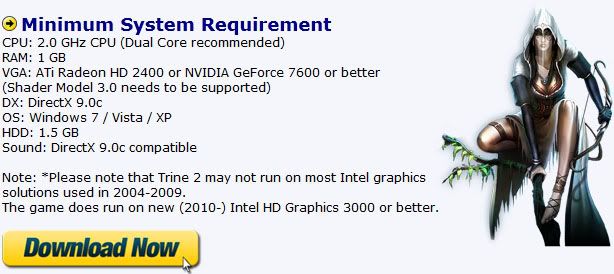 Minimum System Requirement
CPU: 2.0 GHz CPU (Dual Core recommended)
RAM: 1 GB
VGA: ATi Radeon HD 2400 or NVIDIA GeForce 7600 or better
(Shader Model 3.0 needs to be supported)
DX: DirectX 9.0c
OS: Windows 7 / Vista / XP
HDD: 1.5 GB
Sound: DirectX 9.0c compatible
Note: *Please note that Trine 2 may not run on most Intel graphics
solutions used in 2004-2009.
The game does run on new (2010-) Intel HD Graphics 3000 or better.


SKIDROW SCENE RELEASE (1.27G)
Code:
FILESONIC
http://www.filesonic.com/file/4123019235
http://www.filesonic.com/file/4123018825
Code:
FILESERVE
http://www.fileserve.com/file/VwEFaKQ
http://www.fileserve.com/file/CQ26nBY
Code:
FILEJUNGLE
http://www.filejungle.com/f/dbRuyy/sr-trine2.part1.rar
http://www.filejungle.com/f/gAnVjW/sr-trine2.part2.rar
Code:
RAPIDSHARE
http://safelinking.net/d/3142133e87
http://safelinking.net/d/aedb113374
Code:
MEGAUPLOAD
http://safelinking.net/d/a957fb8c47
http://safelinking.net/d/a340bbc086
1. Unpack the release
2. Mount or burn image
3. Install
4. Copy everything from the SKIDROW folder on DVD into the game
installation
5. Play the game
6. Support the companies, which software you actually enjoy
UPDATE 5 - SKIDROW
v1.10 - December 20, 2011
*************************
- fixed bouncy + dynamic objects blocking ("flying animation" on mushrooms etc)
- fixed Thief and Knight cursors sometimes missing (Happy Holidays, Jukka!
)
- fixed Wizard's objects breaking underwater (now allowed)
- fixed standing on the edge of hatches
- fixed experience orbs spawned by enemies sometimes flying into the sky (now directed to the player)
Controllers:
- fixed jump double binding (W/space) issue
- fixed menu slider usage on gamepads
Usability:
- fixed ESC/return in Join online game menu
- fixed some menu texts (localization)
Code:
http://www.fileserve.com/file/meazubV
http://www.filesonic.com/file/4313419945
http://www.filejungle.com/f/bqtcmb
1. Unpack release
2. Run Trine.2.Update.5.exe
3. Install
4. Copy the cracked content from the SKIDROW folder to the main install
folder and overwrite
5. Play the game
Trine 2 Collector's Edition Content
- Digital Artbook with commentary by Trine two artists highlighting the design of levels, enemies, buildings and many environments. Also features an exclusive look at material not used in the final game.
- Soundtrack by award-winning Ari Pulkkinen, featuring 21 tracks from Trine 2 in MP3 format with a total length of 57 minutes.
Code:
http://www.filejungle.com/f/qgpBJE/2-Trine 2 Collector's Edition Content.rar
http://www.filesonic.com/file/4232434935
http://www.fileserve.com/file/ThJqYjJ