Wake up and smell the coffee! The Smokestack Coffee Company is polluting the town with bad coffee! Open your own Coffee Shop and take back the town! Swap coffee beans, milk, sugar and other tasty ingredients to prepare a menu full of tasty blends. Hold on tight for a fully wired rollercoaster ride through 7 neighborhoods, each with its own unique cast of 12 characters and 50 challenges, while you upgrade your shop, recipes, treats and bonuses. Need a jolt? Blast-off with Coffee Rush!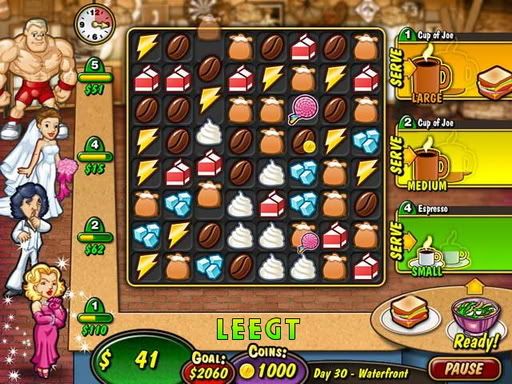 Coffee Rush Features:
• 50 Latte-Filled Challenges!
• Earn Special Bonuses For Strategic Matches!
• Upgrade 7 Different Coffee Shops!
• Groovy Soundtrack And Funny Character Voices!
System Requirements:



• OS: Win 2000, XP, Me, Vista
• Memory: 128 MB
• DirectX: 9.0 or later
• CPU: P3 800
• Video: 32MB DirectX Compatible Video Card
http://www.filefactory.com/file/857b79/n/CoffeeRush_zip
or
[/h]
---
Coffee Rush 2 (Portable) | 40.4MB
Genre: Time Management/Match-3
Put some pep in your puzzling with Coffee Rush, an original blend of match-3 mayhem and fast-paced time management fun. Good coffee has been difficult to come by since The Smokestack Coffee Company moved in to town.
With no other coffee shops around, residents have no choice but to drink SmokestackÂ's bitterly bad brew. Now, desperate for a decent pick-me-up, the townspeople are relying on you to open your own chain of coffee shops and stop Smokestack from serving their dreadful drinks.
Arrange coffee beans, milk, sugar, and other key ingredients into matching groups of three or more to complete your customersÂ' orders. YouÂ'll have to work fast, though, because your coffee drinkers wonÂ't wait around forever.
System Requirements:-
OS: Windows XP/Vista
CPU: 1.2GHz
RAM: 512MB
DirectX: 9.0
Download size: 40.4MB
http://uploading.com/files/75133f34/PortCRush2NJoy.rar/
or
http://www.filefactory.com/file/b3c210b/n/CoffeeRush2.rar
---
Coffee Rush 3
Match 3/Puzzle Game
Keep your customers content in Coffee Rush 3! Take each order and then use your Match 3 skills to serve up your delicious java! From aliens to mobsters, your customers can be a needy bunch! Brew up beautiful beverages to turn a tidy profit and expand your shop in this incredible Match 3 game. Serve the clientele well and take on other obstacles in Coffee Rush 3!
Game Features:
• Brew up a Beverage
• Serve Up Hot Java
• Keep your Customers Content!
http://www.filefactory.com/file/cf75e66/n/CoffeeRush3.rar
creit : Leegt and all uploaders