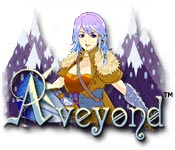 Aveyond
Fight monsters and explore a medieval world. Aveyond is packed with more than 60 quests, tons of places to explore, and over 50 hours of game play. If you like games like Final Fantasy, Chrono Trigger, and Dragon Warrior, you are going to love Aveyond. A powerful deity, Ahriman, has opened the Demon Portal and dark creatures now threaten the great isles. You must stop the destruction and destroy Ahriman before it is too late. The Sword of Shadows is the key to your redemption. You must find it in the mystical isle of Aveyond and use it to seal the Demon Portal and stop Ahriman.
* 60 spellbinding adventures to complete
* 50 lands to explore
* Join Magic Guilds
* Continue your epic quest with Aveyond 2
Aveyond 2
A beautiful young elf is missing, and no one remembers her existence. To solve the mystery of his lost friend, Ean leaves the vale and embarks on a mission that takes him through dark forests and arid desserts. Solve dozens of adventure puzzles and explore an enchanting world. Aveyond 2 is packed with monsters, magic, and humor. Stop an evil queen from turning the world into ice, capture a dragon and ride the winds to ancient lands, unite the kingdoms and discover your destiny.
* Fight monsters.
* Join magical guilds.
* Capture a dragon!
Aveyond Lord of Twilight
Young Mel, a common street thief, is about to have her life turned upside down. An evil vampire is poised to take over the world and all of humanity, and only Mel can stop him! Explore lush tropical forests, arid deserts, and mystical woodlands as you battle monsters, collect gold, and solve puzzles in this exciting Strategy game. Aveyond: Lord of Twilight takes you into a fantasy world full of fun and excitement in the first chapter of the Orbs of Magic series.
* Explore dozens of lands
* Raise pets and collect eggs
* Save the entire world!
Aveyond Gates of Night
Help Mel, a common street thief, get back an orb of great power from the vicious vampire, Gyendal. Steal back the relic and prevent an evil and dark prophecy from occuring! Gather together an unlikely band of friends and confront an ancient evil in Aveyond: Gates of Night. Solve different puzzles, complete exciting quests, and much more, as you explore an enchanting world in this clever Strategy game.
* Unique gameplay
* Raise pets and collect eggs
* Get back the orb!
System Requirements:
* OS: Windows XP/Vista
* CPU: 600 Mhz
* RAM: 256 MB
* DirectX: 8.1
* Hard Drive: 75 MB
Aveyond The Lost Orb
Mel's wedding day isn't going according to plan. Her worst enemy has stolen her man, and a mysterious ghost has appeared to inform Mel that her evil ancestor, Mordred Darkthrop, has passed down his most precious possession to her: a magical orb with the power of death! Wanting nothing to do with her wicked ancestor, Mel must now seek out the orb and destroy it, before someone else with the power to use it discovers its location in Aveyond: The Lost Orb.
* Unique gameplay
* Immersive atmosphere
* Find the lost orb!
System Requirements:
* OS: Windows XP/Vista
* CPU: 600 Mhz
* RAM: 128 MB
* DirectX: 8.1
* Hard Drive: 81 MB
Code:
http://rapidshare.com/files/350924488/Aveyond_Series___justforfun-games.com.part1.rar
http://rapidshare.com/files/350939528/Aveyond_Series___justforfun-games.com.part2.rar
or
http://www.filefactory.com/file/b01c58c/n/Aveyond_Series_justforfun-games.com.part1.rar
http://www.filefactory.com/file/b01c657/n/Aveyond_Series_justforfun-games.com.part2.rar
or
http://www.mediafire.com/?5ydqzzvyndm
http://www.mediafire.com/?wyggqnurwyj
or
http://www.megaupload.com/?d=HPTUVB7K
http://www.megaupload.com/?d=2AH6Y6S0