Diner Dash Series X 6
Diner Dash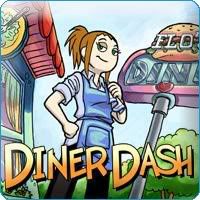 Ditch your desk job, roll up your sleeves, and serve up some grub! Diner Dash blends the best in fast paced action puzzles with a build-your-own-restaurant-empire theme that encourages players to serve their way to the top. Whether you're an entrepreneur dreaming of your own chain of restaurants, or are just looking for a way to escape the grind of your own day job, you'll love the can't-put-it-down gameplay and unique world of Flo's DINER DASH!
Diner Dash 2
Join Flo as she returns to help four fellow restaurant owners defeat the greedy tycoon, Mr. Big. By working as fast as ever, Flo helps each of her friends upgrade their restaurants, expand their businesses, and pay their rent, all in the hopes of escaping the wrecking ball and a disastrous Mega Multiplex Food Plaza. Seat customers, take orders, serve drinks, deliver food, and collect tips with quirky new characters, challenges, power-ups, and a surprise restaurant in this sequel to the original smash hit!
Diner Dash 3: Flo on the Go
Flo trades in her apron for a passport to paradise! But will our hard-working waitress get a chance to relax? Join Flo and her sidekick Darla as they embark on the vacation of their dreams. But when Flo's suitcase suddenly spills into the water, she must rely on her table-serving talents to get her vacation (and her lost wardrobe) back on track. Seat customers, take orders, and satisfy nine types of customers to help Flo improve five all-new restaurants in the third episode of the original smash hit!
Diner Dash: HomeTown Hero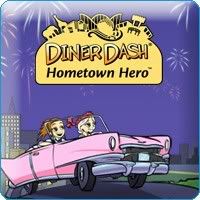 On a visit to her hometown, Flo and her Grandma Florence take a stroll down memory lane. Bring five restaurants back to life, then dress up your waiter and invite friends to play in a diner you created! You can even buy items for your diner or purchase new downloadable restaurants to add to the game. Help restore Flo's hometown now!
Diner Dash: Seasonal Snack Pack
In Diner Dash: Seasonal Snack Pack, stroll down memory lane with Grandma and Flo as they reminisce about their favorite seasons! If you think the denizens of Dinertown like to have a good time when they stop by Flo's, you should see them really party! Journey through the seasons with stops at five new restaurants: Coral Cove Café, Crypt Café, Hometown Harvest, Winter Wonderland, and Romantic Rendezvous! It's all your favorite seasons, wrapped up in a pretty Diner Dash package!
Diner Dash: Flo Through Time
In Diner Dash: Flo Through Time, join Flo and your favorite DinerTown residents on a hilarious, harrowing, and heroic journey through the very fabric of time! It all starts when Grandma Florence tinkers with the diner microwave, turning it into a powerful time machine! If you think you're good at time-management, you need to play this all-new collection of episodes and see if you have what it takes to become the best DASH game player of all time!
110 MB
Code:
http://hotfile.com/dl/111624204/ef9e14a/DinerDashX6.rar.html
OR
http://www.filesonic.com/file/337213334/DinerDashX6.rar
OR
http://www.filefactory.com/file/agf4bfg/n/DinerDashX6.zip