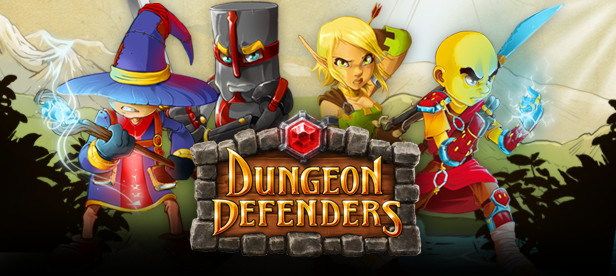 Dungeon Defenders v7.12e + DLC | Multi5 (Eng/Fr/Ger/Ita/Spa) | 1.72 GB+752 MB

Dungeon Defenders is a Tower Defense Action-RPG where you must save the land of Etheria from an Ancient Evil! Create a hero from one of four distinct classes to fight back wave after wave of enemies by summoning defenses and directly participating in the action-packed combat!
Customize and level your character, forge equipment, gather loot, collect pets and more! Take your hero through multiple difficulty modes and challenge/survival missions to earn more experience & even better treasure. Join your friends with 4-player online and local (splitscreen) co-op to plan your strategies together or compete in PvP Deathmatch.

Features
• 4-player Online and Local Co-Op - Team-up with up to 3 friends to defend cooperatively, with character classes that support each other's strengths and weaknesses. Dynamically combine local (splitscreen) and online players and leave/join any time, so that the game's always full.
• Tower-Defense Meets Action-RPG - Choose your class, customize your character & equipment, strategically assemble your defenses, and participate directly in action-packed battle to preserve your castle against the invading horde!
• 4 Distinct Character Classes - Each character class has a different skill tree, set of towers, and even basic attacks! You can choose if you want to play stealthy, turn invisible, and plant traps behind enemy lines with the Huntress or go all out, block off choke points, and brutally beat your foes into submission with the Squire!
• Loot and Level-Up - Grab the mounds of money and items that your defeated foes drop and trade them or store them for later use in your Item Box! Getting kills and completing waves earns you experience points, which can be used to upgrade your characters, skills, equipment, and towers on a per-statistic basis. Do you want to enhance Hit Points, Attack Rate, Damage, etc? The choice is yours... Store your massive overflow of money in the 'Mana Bank' and then spend it to improve your equipment or trade with other players. Proudly show off your best equipment in your own 'Adventurer's Tavern', without fear of item theft!
• Tons of Enemies and Huge Boss Fights - Over 100 simultaneous enemies will attempt to tear through your defenses and gigantic Boss Monsters will appear to rain down havoc upon everyone. Only by employing the most effective defensive strategies, teamwork, and strong characters will you defeat such devilish foes! Many enemy types run the gamut from big dumb Orcs swinging huge axes, to lithe Dark Elves that strike from the shadows, to crazy kamikaze goblins! Can you defeat the epic boss battles and collect the special loot while still defending your crystals?
• Mission & Game Play Variety - Each level has a different visual setting, layout, enemy types, traps, and distinct surprises. To collect all the loot and reach the highest levels you must take your character through 4 difficulty modes, survival missions, challenge maps, and more! Some maps force you to have mobile defenses, guarding a crystal which warps around the map. Others have YOU attacking enemy encampments!
• Collect and Trade Pets Online - A variety of pets exist to assist you in the land of Etheria, each with distinct behaviors. These pets can be leveled-up and customized to match your unique play-style. They can even be traded online with other players!
• Secure Trading System - Afraid another player won't lie up to their word? Use our secure trading system to trade your precious weapons, armor, and pets with other players online! Watch your name and fame spread online, as people seek out the best pet raisers or item forgers!
• A Mountain of Stats - Every shot you take, kill you make, and defense you build is logged and recorded for posterity. Pore over the voluminous charts and graphs at the end of each session to analyze your team's performance, quickly review your best statistics for each level, and compare your data online with other players to see who is the greatest hero of all. Furthermore, your Achievements are visible for all to see within your very own Adventurer's Tavern, and the highest scores for each of your heroes are ranked on the worldwide leaderboards!

Included DLC:
• The Aperture Science Handheld Portal Device for the Huntress hero class. Constantly consuming energy when active, this device allows it's user to open portals from one location to another and can be used to greatly extend a trap's range, quickly teleport across the map, or confound enemies!
• Four Team Fortress 2 Familiars:
- The Heavy: Uses his Gatling gun to shoot at enemies from afar.
- The Engineer: Repairs groups of nearby towers while you're on the offensive.
- The Medic: Heals a group of nearby allies amidst battle.
- The Pyro: Uses a flame-thrower to set your foes on fire.
• Argo Pet, a baby green dragon - starts out as just a tiny creature, but he packs a whallop in the form of stinging vampiric poison projectiles, which sap enemy hitpoints while adding a small amount to your own! He also boosts a variety of your Hero statistics, so level him up and he'll not only grow in size and strength, but in benefit to your own character as well. An essential companion for any serious defender of dungeons.
• Nagi Pet, a baby black dragon - starts out as a small critter, who heals your towers while also attacking nearby enemies! He also boosts a variety of your Hero statistics, so level him up and he'll not only grow in size and strength, but in benefit to your own character as well. A helpful companion for any defender of dungeons.
• Archimedes Pet - starts out as a miniscule hatchling, who periodically heals you while scratching at any nearby enemies! He also boosts a variety of your Hero statistics, so level him up and he'll not only grow in size and strength, but in benefit to your own character as well. A loyal companion for any defender of dungeons.
• Mephisto Pet - healing your towers AND punishing your foes with blasts of fire, along with boosting your offensive statistics, Mephisto is the ultimate travelling companion!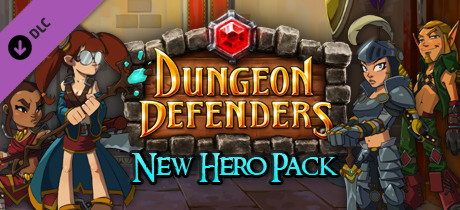 • New Heroes Pack:
Want 4 new Dungeon Defenders Hero Classes? Want a chance to play all 8 at a time in the new 8-player PvE Uber Monster Fest Challenge mission? Well get ready. This pack contains gender-swapped versions of the main characters, equipped with all new abilities, stat ramps, and more:
• The Initiate: A student of the mountain monasteries, the Initiate has joined her counterpart to discover the truth behind her master's demise. While her time in the mountains may have decreased her endurance, her increased spell-casting and movement speeds coupled with powerful radial abilities make her a strong ally. Her Enemy Drain ability allows her to debuff all nearby foes and her Remote Defense Boost ability buffs the defenses of any nearby allies. She will not give up until she discovers the truth behind her master's disappearance and avenges him!
• The Countess: A proud Etherian warrior of noble descent, the Countess can hold her own against any of the other great warriors of the realm. Though still favoring brute force melee combat, she can often run circles around her Squire comrades. Her Joust ability allows her to push through enemy lines with unstoppable force, while her Call to Arms ability allows her to rally allies to the cause, boosting their morale. Though she can be stubborn at times, she'll never back down from a fight!
• The Ranger: Hailing from the wood elves' traditional home near the great forest of Mistymire, the Ranger is a formidable warrior. Unlike his nimble female counterpart, his slower speed is coupled with a hardier constitution enabling him to take a great bruising. His Invisibility Field ability enables him to cloak nearby allies and defenses along with himself, while his Piercing Spreadshot ability can tear through lanes of enemies in a wide arc. This pointy-eared warrior is a powerful ally to have in your travelling party!
• The Adept: An introverted trainee in the arcane arts, the Adept has focused her energy to hone several unique spells. Her Purifying Blast ability can unleash a magical explosion which will destroy skeletons in a single blast and greatly damage their necromancer masters, while her Instant Upgrade ability allows her to channel her mana into an instant upgrade for any Defense. Though she can be a little shy at first, her increased speed allows her to hurry across the battlefield to wherever her urgent attention is required!
...as well as an all new 8-player PvE challenge mission: Uber Monster Fest!!!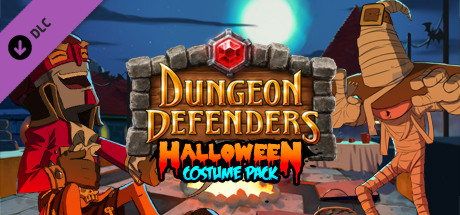 • Halloween Costume Pack:
Want to spice up your heroes? This pack includes 4 scary outfits for your TrendyNet Dungeon Defenders characters:
• Devil – Monk
• Mummy – Apprentice
• Pirate – Squire
• Witch – Huntress




• Halloween Mission Pack:
Celebrate Halloween with everyone on TrendyNet! This Halloween Mission Pack contains:
• 1 new Halloween-themed mission
• 8 exclusive Halloween weapons
• 4 ultra-rare, unlockable character skins:
- Ninja – Monk
- Vampire - Apprentice
- Death Knight - Squire
- Angel - Huntress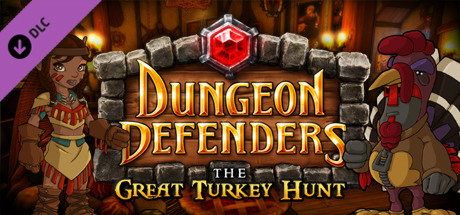 • The Great Turkey Hunt! Mission & Costumes:
Celebrate your Thanksgiving in Etheria with 'The Great Turkey Hunt!' event on TrendyNet!
Hunt humongous herds of turkeys for their delicious Thanksgiving meat… but watch out! There are dangerous Dark Elf Warriors who will stop at nothing to protect the turkeys from harm and lurking in the shadows, the gigantic Boss "Mega Turkey" will prove an incredible test for even the mightiest group of Heroes!
If you prove victorious, you'll unlock a brand new set of holiday Costumes for your Heroes. So Give Thanks and GET THOSE TURKEYS!
• The Great Turkey Hunt Challenge Mission
• Mega Turkey Boss
• 4 Unlockable Character Skins:
- Apprentice – Pilgrim
- Squire – Turkey Outfit
- Huntress – Native Princess
- Monk - Conquistador




• Warping Core Challenge Mission Pack:
Ready for even more of a challenge? This Dungeon Defenders Challenge pack contains 4 new warping core missions for you to tackle with your friends as well as unique loot that can only be obtained by beating these missions! Warping Core Challenges are on:
• Royal Gardens
• Endless Spires
• Castle Armory
• Hall of Court

Changelogs

http

:

//forums.trendyent.com/showthread.php?30004
NFO
http

:

//tinypaste.com/d5727ba4
Dungeon.Defenders.v7.0.multi5.retail.READ.NFO-THETA
http

:

//www.filefactory.com/file/ce66699/n/Dungeon_Defenders_part1_rar


http

:

//www.filefactory.com/file/ce66695/n/Dungeon_Defenders_part2_rar


http

:

//www.filefactory.com/file/ce66693/n/Dungeon_Defenders_part3_rar


http

:

//www.filefactory.com/file/ce66629/n/Dungeon_Defenders_part4_rar



http

:

//depositfiles.com/files/jr19ugqbq


http

:

//depositfiles.com/files/hizgys6ls


http

:

//depositfiles.com/files/qbwlgp1cr


http

:

//depositfiles.com/files/pcmailsjp




Password

:

 www

.

2baksa

.

net


+

Dungeon.Defenders.v7.12e.update.cracked.READ.NFO-THETA

(including DLC)
http

:

//www.filefactory.com/file/cf8476a/n/Dungeon_Defenders_v7_12e_part1_rar


http

:

//www.filefactory.com/file/cf84725/n/Dungeon_Defenders_v7_12e_part2_rar



http

:

//depositfiles.com/files/qmssis4yd


http

:

//depositfiles.com/files/1ewf7h5ia



http

:

//letitbit.net/download/30286.3671f639428f1e34fd048474e197/Dungeon_Defenders_v7.12e.part1.rar.html


http

:

//letitbit.net/download/55512.5baa3724b0d1b18601a46b7a3bfa/Dungeon_Defenders_v7.12e.part2.rar.html




Password

:

 www

.

2baksa

.

net 
Install & Play - Thanks to THETA,Cielle Hitzwarez